New Patients
Your first visit to Elite Ankle & Foot establishes a vital foundation for our relationship with you. During the first visit, we make sure to obtain important background information, like your medical history, and give you time to get to know your doctor. To understand what to expect for your first visit to our practice, please read through this page. You'll find all the practical information you need, such as a map and directions to our office, practice hours, payment policies and more. There's also background information about our committed staff and our first visit procedures. You can even save some time at your first visit by printing out and completing the patient forms in advance of your appointment.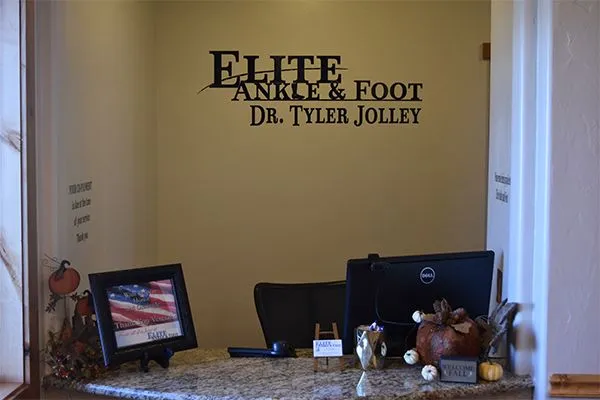 Mission Statement
Elite Ankle and Foot is committed to upholding the highest standards of quality as we provide for the podiatric needs of the individuals we serve. We will provide these services with respect, compassion and empathy while maintaining the highest ethical and professional standards. To fulfill this mission, we are committed to:
Listening to those we are privileged to serve.
Earn the trust and respect of patients, profession and community.
Exceed your expectations.
Ensure a creative, challenging and compassionate professional environment.
Strive for continuous improvement at all levels.
What Sets Us Apart:
Elite Ankle and Foot is excited to provide the only full time foot and ankle clinic in Sanpete County, Utah.
In a convenient central location, we look forward to providing care to all of the great people of central Utah.
Dr. Jolley is well trained to provide excellent care for all your foot and ankle needs. In addition to the common foot and ankle concerns, Dr. Jolley received specialized training in sports medicine, reconstructive surgery of the foot and ankle, trauma, and pediatric foot and ankle care.
Although Dr. Jolley has extensive surgical training, his philosophy is to focus on conservative non-surgical options first. No problem is too small, we want to help your feet and ankles feel better regardless of how minor or major your concerns may be.
Patient Forms
Please print and fill out these forms so we can expedite your first visit:
In order to view or print these forms you will need Adobe Acrobat Reader installed. Click here to download it.

What to expect
Being well-prepared for your appointment will ensure that the doctor has all of the needed information to provide the best possible care for you. It also will help relieve any unnecessary anxiety you may be feeling. Educate yourself on your symptoms by reviewing the content on this Web site. Also, take some time to review our staff page and familiarize yourself with the doctors. We look forward to your first visit.